Yong Lee Keng planned this trip for our families and for the first 15 days there were 12 family members. This included Lee Keng and my own family. After the 15th day, we sent the family off at the airport and on the same day, we met up with the small group of 5 pax , 4 of whom are past Yongoers, who flew on their own into Morocco. Lee Keng stayed with the group for week, after which Lee Min led for another 9 days. In total Lee Min was in Morocco for some 30 days. On the family trip, we hired an expensive 16 seats Mercedes van. The Yongo group's trip was a backpack trip using public shared taxes and a van charter for the first 3 days of their trip.
Below is extracted from our Trip Itinerary Dec 2007. Yong Lee Keng, the one with the gift of the "pen" is doing the write up, which will be posted once it is completed, hopefully soon :-) Do register your interest in Yongo's Morocco trip schedule for Nov 2008. Meanwhile do enjoy the 200 pictures posted in the internet by clicking the link at the top of this page.
This will be a backpack experience using public buses/trains from town to town. We stay budget to mid-range accomodations except for the one night in a desert tent. Its quite important participants are able to manage their own luggage and backpacks are a must. As usual, you pay for your own meals unless stated below, entrance fees, within-the-town taxis and other activities. Leekeng, the one with the writer's flair is doing the itinerary.
Welcome to one of the greatest shows on Earth! Morocco is sensory overload at its most intoxicating, from the sights, scents and sounds that permeate medieval Fes and magical Marrakesh, to the coastal charm of its Atlantic Coast . From the highs of the Atlas range and its abundance of mountains, Kasbahs, and friendly Berbers, to the stunning sculpted sands of the Sahara . Yongo…Just Go!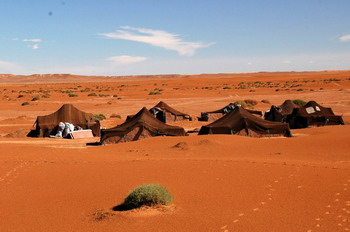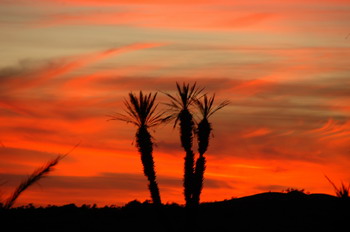 Sahara Desert Camp / Sunset in Mhamid
Day 1 30 Nov Fri KLIA: Depart KLIA at 0030hr arriving in Dubai at 345AM on Emirates Airlines. Depart Dubai at 750AM arriving in Casablanca at 1250PM. After shaking off the jet lag, a good Moroccan lunch and coffee, we proceed to Rabat. Overnight (O/n) Casablanca.
Day 2 Rabat, Chellay, Moulay Bousselham: In the morning we visit the Chellah, an Arab Castle built over the ruins of a Roman fort. We then visit the walled old city of Rabat and a nearby untouristic souk or bazaar for lunch and some shopping. In the afternoon we proceed to Moulay Bousselham (2-3h via train, taxis etc), and rest of day free to explore this sleepy but charming and friendly seaside fishing village. O/n MoB.
Day 3 Sea Birds Santuary & Meknes: AM-Ornithologist paradise—we take in a blue lagoon cruise around the Merdja Zerga NP, winter home to thousands of migrant birds with one of the best viewing season being…yes December! PM-After a bellyful of birds, its off to Volubilis, a UNESCO site, containing the ruins of one of the most important Roman City on the North African coast. We move on to Meknes for our overnight stay. O/n Meknes.
Day 4 Meknes: In the morning we vist the Imperial City Meknes. In the afternoon it is free and easy to wander about the Old City. O/n Meknes.
Day 5 Fes: A short 1h train ride to Fes , Morocco 's oldest imperial city, and another UNESCO Heritage Site. Be prepared for a labyrinthe of alleys and a riot of sights and smells, many of which has remained pretty much the same since centuries ago! Run riot on your own then! O/n Fes .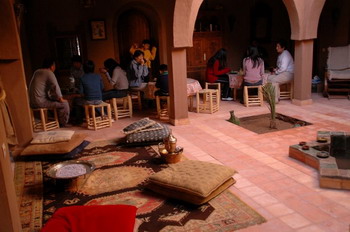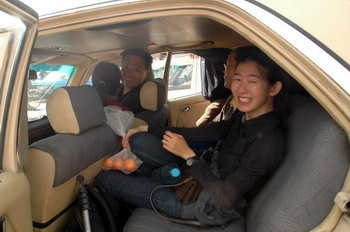 Luxurious desert stay Mhamid / Mercedes Benz share taxis
Day 6 Fes: We will do a 3km walking tour of the old medina, taking about 3hours or so, and rest of day free to continue your own explorations of Fes . O/n Fes .
Day 7 Tinehir: It's a long ride into the High Atlas today, as we take in a 10hr trip to Tinehir. However, the change of scenery as we start our uphill ascend will surely keep all awake, at least some of the time. O/n Tinehir.
Day 8 Tinehir: Morocco 's answer to the Grand Canyon , Todra Gorge awaits us today. With 300m cliff walls at its narrowest point, and quaint Berber villages abounding, today will be a day of natural and cultural appreciation. O/n Tinehir.
Day 9 Ouarzazate: AM-Another shared taxi ride day today as we travel on to Ouarzazate(5h). PM-Upon arrival, we proceed to Ait Benhaddou, one of the most exotic and best –reserved Kasbahs in Morrocco, and yet another UNESCO Heritage Site! PM-Back to Ouarzazate. O/n Ouarzazate
Day 10 Mhamid: Taxi to Mhamid(5h), to the last village before the Algerian border, and the beginnings of the Western Sahara . PM-Wander this village with its small but impressive Kasbah, and wait for the spectacular desert sunset. On the way we stop at the Zagora Sunday Market. From Zagora, its 21 days to Timbaktu in Malu, the site of UNESCO salt mines. O/n Mhamid.
Day 11 Sahara Desert Berber Camp: Its sand-bashing time with 4WD deep into the Western Sahara, to Erg Chigaga and its 150m tall sand dunes. In the evening, try your charm on the cantankerous camels around the Berber camp and oasis where we will stay the night. We sleep in large Berber tents, but nothing like a sleeping bag on soft sands under a thousand stars. O/n Desert Camp. (Note: food and accomodation is basic on this night).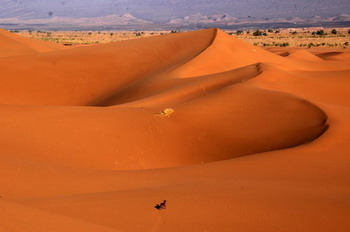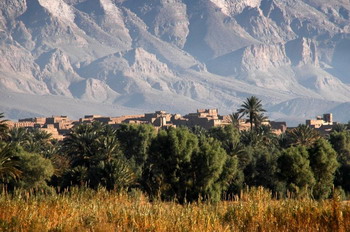 Sand dunes of Chigaga / A typical mountain village
Day 12 Mhamid: Another day of 4WD and camels, before we end up in Mhamid again for cold drinks, showers, and a soft bed. O/n Mhamid.
Day 13 Ouarzazate: Its a long but scenic drive back to Ouarzazate. Upon arrival we visit Atlas Film Studios, and see set reproductions from movies like "Gladiator", Alexander the Great", Lawrence of Arabia" etc. O/n Ouarzazate.
Day 14 Marrakesh: The 4hr journey to Marrakesh over the Atlas mountains is spectacular with beautiful views of the villages, orchards and terraced fields surrounded by snow-capped mountains. Upon arrival, we O/n Marrakesh.
Day 15 Marrakesh: The epicenter of Morocco tourism, Marrakesh is meanderer's heaven. We take in the city sights, smells, and sounds in a walking tour, and end the day at the Djemaa el-Fna, a huge square in central Marrakesh , and a backdrop of one the world's greatest spectacle of food, fun, fools, etc in a kaleidoscope of Moroccan vibrancy! O/n Marrakesh.
Day 16 El Jadida: AM- Hired a share taxi to take us to El Jadida, a former Portugese port town. O/n El Jadida.
Day 17 Go Home 16 Dec Sun: A short morning in El Jadida before we board our share taxi to Casablanca Airport. Fly out from Casablanca at 215PM arriving Dubai 130AM next day 9hr flight!
Day 18 Home 17 Dec Sun: Depart Dubai 310AM and arrive KLIA at 205PM 7hr later, and get ready for your next Yongo trip…Can you hear Romania , the Silk Road , Peru etc calling your names!!?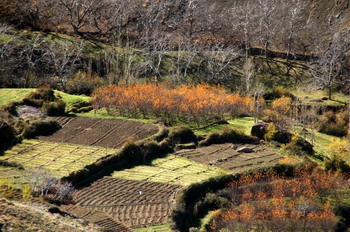 Torda Gorge in Tinehir / Mountain village orchard
| Home |